- Before read..
It is tested on Windows 10 x64 (21H1), Mi band 6 chinese version. (not global)
Mofifying resource file can change the icons, main menu's font (Can chage only when language is set to English or Simplified Chinese. These language setting does not import letters in the main menu from the font, but imports files stored in resource files that are separately imaged.)
Since this is not officially authorized by Xiaomi,
any risk and responsibility are on you if any problems arise while modifying and applying the resource file.
As you may have felt while reading it, I am not good at English. So If you can't understand what I'm saying, please let me know by writing comment.
Each resource file has its firmware file version. for example, Resource V28 only matches with Firmware 1.0.0.26.
If this version is different, problems can occur.
- Requirements
-
(1) Mi Bands Tools | Mi Band 3/4/5/6 & Amazfit Band 5 | GeekDoing
(This can decompile res file, which allows we can modify the resources.)
-
(1) Mi Band 6 | Original Firmwares/Resources/Fonts | GeekDoing
(Download the resource file.)
- Decompile *.res file
Copy the downloaded resource file to mi bands tools. (extracted)
Drag the resource file (*.res) to Mi Bands Tools.exe.
A black window opens to start the decompilation. It may take from beginning to end in minutes and will disappear automatically when completed.

When the operation is complete, a folder is created with the name of the resource file. There are many photo files in this folder, including icons and letters (image) in the menu, and you can modify them to create your own resources.

- Decompile the translation file (2680.dat)
You can find 2680.dat from the folder. drag it to the Mi bands tools.exe.

This folder contains translation files.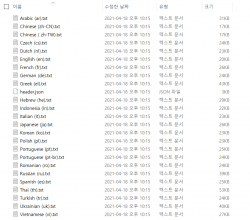 - Repack resource file (Compile)
Drag the folder to Mi Bands Tools.exe